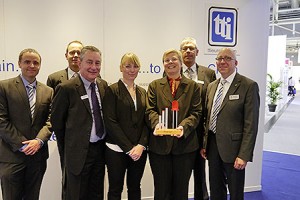 from left to right: Felix Corbett (Director Supplier Marketing Europe TTI), Joerg Frodl (Director Product Marketing Europe TTI), Udo Reinhold (Managing Director Kingbright Europe), Sandra Winterscheid (Product Buyer TTI), Gabriele Schütz (Corporate Product Manager TTI), Michael Vogt (Authorized Officer & Technical Sales Kingbright Europe), Markus Walz (Business Development Manager Europe TTI)
TTI Europe has been presented with Kingbright Europe's Silver Award in recognition of its outstanding sales success in year 2013. The award has been made as a result of TTI's success in exceeding its sales growth in 2013.
TTI Europe became a franchised Kingbright distributor for EMEA in February 2012. Winning the Silver Award after just two years shows TTI's great ability to distribute Kingbright products successfully in EMEA and the excellent partnership between TTI and Kingbright Europe.
TTI is a specialist distributor of passive, connector, electromechanical and discrete components.
The combination of focusing on this area coupled with the considerable experience of 40 years in the business has enabled TTI to gain an outstanding position and reputation in the field of product diversity, quality, service and logistics.
For more information about TTI visit www.ttieurope.com.